Simone Etere is a young Blogger, only 23 years old and is already an icon for many.
To date with over 1.1 million followers on his Instagram page.
"Travel Influencer and Personal Trainer of Calisthenics, his name is Simone Etere" born in Sansepolcro in Tuscany but resident in Umbria, every day he dedicates many hours to training to improve himself, and obviously also dedicates a lot of time on Instagram, answering you have numerous fans who follow the its path.
The influencer Simone Etere who, among other things, receives many requests for collaborations with world-famous brands.
1.83 tall, weighs 79kg, green eyes and brown hair, his appearance also sets him apart.
He has a large tattoo that covers his entire back, especially a cross, which represents what he believes in.
He has practiced many sports since he was a child, he loves to travel and discover new places bringing his passion in his collaborations all over the world.
Thanks to his determination and tenacity he has been called to collaborate with many brands, wearing and advertising their garments, including the well-known sports brand Puma, AmTourister, FreshHoods, Gillette.
Along with these collaborations, Simone also makes his way into other areas; it has in fact been called in other collaborations, such as advertising for resorts and hotels at an international level, for example recently he was at the Papadopoli hotel in Venice and at the Argentario Golf & ResortSpa resort in Porto Ercole.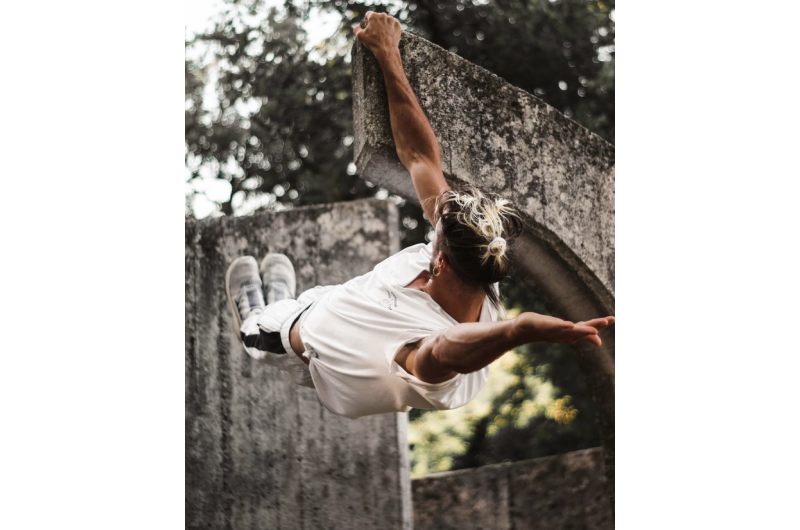 He works extensively with Instagram, with over 1,100,000 followers supporting him on his journey.
Ether has many values, one of the greatest is the Faith that guides on his path and puts in everything he does, because for him gratitude for God is the basis of everything, without gratitude there is no visual, from this he draws strength for his projects and for his future, a beautiful message also for the very young who often do not have this type of vision of life.
Thanks to his talent and experience, the Athlete has managed to create movements considered impossible up to now, one of these is the extreme grip in the neck, with only the strength of the neck/nape remaining hanging from the bar, as well as a symbol of its uniqueness, and now a source of inspiration for many around the world.
He teaches in various gyms in Umbria and has also made his website available; in this period during which the gyms are closed, even those who are far away can follow him online in his unique workouts.
Despite the difficult period for everyone, Simone has a lot of news to say and to show, so if you want to stay updated on his social work, you just have to follow him!