Fast, feminine, and fierce. Kristen Strout is the kind of girl they write country songs about. The Nashville-based model/entrepreneur is fast becoming a force to be reckoned with in the largely male-dominated fields of racing and construction. She is taking her competitive mindset and excelling in her marketing capabilities along with a strong PR partnership with Branded Book. She is also taking the trending social media DIY projects and allowing her investments to give her the stability she needs to keep growing her image.
The embodiment of a true Southern girl, Kristen grew up with classic cars, horses, and a kick-ass work ethic which is now paying off in spades.
At just 22 she purchased her first motorcycle, a Kawasaki Ninja 636. At the same time, Kristen started playing in The Lingerie Football League for the Orlando Fantasy, where she was chosen to be the one girl from the team to be both on the official LFL football and in their calendar. Needless to say, Kristen's career took off. She has become a highly sought-after model, spokesperson, and influencer working for a myriad of major brands.
https://www.instagram.com/r1_vette_babe23/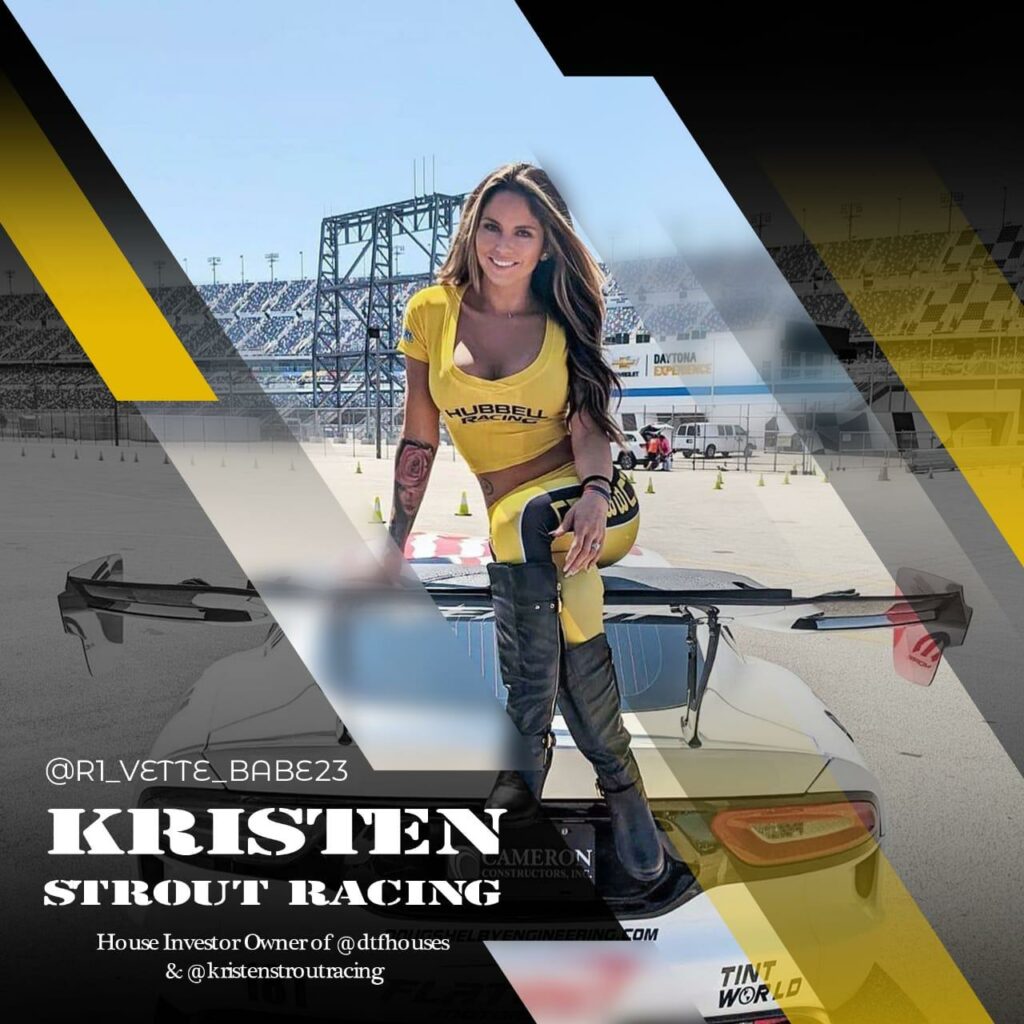 As a successful promo model, Kristen spent a lot of time on some of America's most famous racetracks. Enthralled with every aspect of racing, she became determined to hit the track as a driver herself. Kristen immersed herself in the car world, meeting team owners and pro drivers alike. Thanks to Hubbell Racing, her dream soon became a reality. Kristen has now driven on numerous tracks with pro drivers coaching her in the passenger's seat. She's raced multiple cars on multiple tracks and has even tracked her corvette at Homestead and Sebring Raceways. Poised on the brink of yet another successful venture, you can follow Kristen's racing journey at https://www.instagram.com/kristenstroutracing/.
Never one to rest on her laurels, Kristen recently decided to take on yet another male-dominated field, house flipping. A Jill of all trades, she's not afraid to get her hands dirty doing construction and adding her glam touch to her flips. Her new venture, cheekily named, Down To Flip, renovates and resells homes. The company is thriving with Kristen at the helm. On her page, https://www.instagram.com/dtfhouses/, Kristen shares flipping tips and tricks while encouraging others to get in the game.
Equal parts grit and girly, Kristen is well on her way to achieving her version of the American Dream. As an in-demand influencer and burgeoning mega-brand, Kristen has recently teamed up with the innovative marketing agency Branded Book. https://brandedbook.com/
The agency now handles her public relations and branding. With a decade of experience in the Digital Marketing & E-Commerce game, they have evolved with the trends of internet marketing and carefully cultivated relationships with industry leaders in media and PR, Branded Book is scaling Kristen image and all her endeavors to new and exciting levels. The agency predicts big things for this business-minded babe whose enthusiasm is as infectious as her motto, "Don't Dream Your Life, Live Your Dream!"