We all hate cellulite. Those unsightly dimples on the skin are not a good look. They could ruin the best outfits. And let's not even get into how cellulite can turn every swimsuit season into an absolute nightmare.
And if you think younger women do not have to worry about cellulite, you would be wrong. About 90% of women have cellulite. Many women in their early and mid-twenties are affected. No wonder so many women are so insecure about cellulite.
Many women dream of having the kind of cellulite-free, silky smooth skin they see on celebrities and models. The question is, how do these celebrities get their cellulite-free skin? Good genes help, but not the whole story. It turns out celebrities and models get a lot of assistance from medical science when it comes to cellulite.
If you want to know who celebrities turn to when dealing with cellulite problems, the first name that comes up is Dr. Simon Ourian, one of the most sought-after cosmetic doctors in the world. His world-famous clinic in Beverly Hills, Epione Medical Center, serves a constant stream of A-list clients, including Kim Kardashian, Kylie Jenner, Lady Gaga, Miley Cyrus, supermodels and Hollywood actors.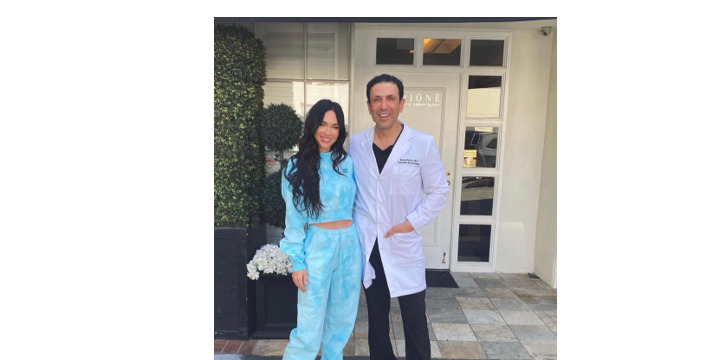 Dr. Ourian and Megan Fox at Epione Beverly Hills
In a breakthrough of cellulite treatment, Dr. Simon Ourian has developed an innovative and groundbreaking technique that combines ultrasounds and Neustem dermal fillers to remove cellulite permanently. You heard it right: unlike many other cellulite treatments that only provide temporary reliefs, this breakthrough technique eliminates cellulite permanently.
Ultrasound is a recent innovation in cellulite treatment. In this technique, ultrasound pressure waves are sent deep into the skin to cause a disruptive vibration in the fat tissues, which breaks the connective tissue bands that cause cellulite and skin dimpling.
The ultrasound shock wave has been proven quite effective in battling cellulite, but it is not perfect. To dial up the effectiveness of this treatment, Dr. Ourian has pioneered the use of dermal fillers for cellulite treatment.
Dermal fillers are gel-like substances injected beneath the skin for cosmetic purposes. Until now, they are mainly used to smooth over wrinkles and plump up lips. Dr. Ourian is one of the first doctors to pioneer the use of dermal fillers to treat cellulite.
Before and After Cellulite Removal
Neustem is a proprietary brand of dermal fillers developed by Dr. Ourian. It contains hyaluronic acid, a natural substance produced by the human body and found in the skin. Hyaluronic acid can retain over 1,000 times its weight in water, making it an excellent agent for moisturizing and smoothing over the skin.
By breaking down cellulite with ultrasound and injecting Neustem underneath the skin to create a smooth skin surface, Dr. Ourian has created a new way to eliminate cellulite. The effect could be permanent. No incision or anesthesia is needed. The procedure only takes one hour, and it requires little to no recovery time.
If you want to look like a celebrity, it's time to schedule a private consultation by sending over a message to @SimonOurianMD1 on Instagram or visiting Dr. Ourian's website at https://www.epionebh.com/.