If you are passionate about 3D game development, this article is for you. The KZX Engine is one of the new most innovative downloadable software programs for both professional and beginning game developers. It is fully education friendly with tutors to guide you on their discord here. The KZX Engine was created by Grand Dog Studio and was finally made public on 6th of January 2022 after a staggering 7 years of development.
KZX Engine is using the Lua script to make the game development process interactive and exciting. Lua is a scripting language that facilitates the creation and development of gaming apps.
On the KZX Engine, you do not need to worry about any commercial license or copyrighted materials. It has a proprietary-based license which you can find here. The KZX Engine could possibly become open-source soon but that is the choice of the KZX Engine development team.
The KZX development team is working round-the-clock to add more innovative features to the software. The KZX Engine has been developed using the function-rich C++ programming language. However, for game and development enthusiasts, there's nothing to worry about. You can use the KZX Engine and not need to pay anything. The KZX Engine is one of the new innovative game engines to create games from scratch and participate in them using both laptop or desktop for currently only the windows operating system.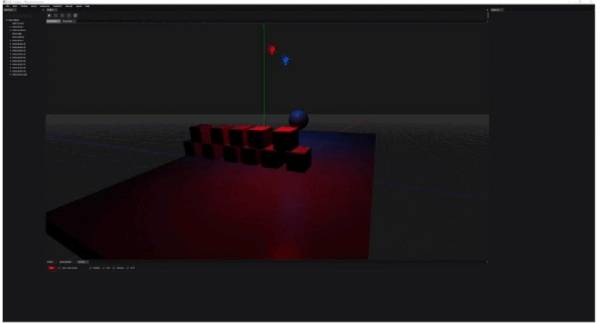 Using KZX Engine, you can make the best utilisation of texture file for maintaining PBR standard or implementing Physical Based Rendering process, along with various other interacting shading options. You need not be an expert in game development to use the KZX engine or Lua script. You need to have some minimal technical skills and creativity to get started.
If at any stage, you require some technical assistance or you face any problem; get in touch with the KZX Engine community members for help. Also, you can refer to various free online resources like self-learning YouTube videos and informative technical articles to understand the nitty-gritty of game development on Lua script.
As far as Grand Dog Studio is concerned, it is a new yet small community with several members working on it from across the globe. The community believes in serving its members to the best of their abilities and perhaps being the number one software for game developers and students while giving a fillip to their ambitions. It comes with a clean interface and editing window.
KZX Engine 3D was made with the spectacular Bullet3 Physics Library, adding all realistic natural forces and modular functionality to the game engine. You can even try its elements for free with a preview demo.
How to Download and Install KZX Engine 3D on your PC
Step 1: Go to your browser.
Step 2: Now visit KZX Engine official website.
Step 3: Download the KZX Engine Setup Installer from its home page compatible with your OS (only windows is currently only supported).
Step 4: Soon, the file will be downloaded to your download folder.
Step 5: Now, press double click on the folder to run it.
Step 6: Grant permission to your system using the 'Yes' button.
Step 7: Follow all the instructions carefully and soon the KZX Engine will be installed on your system.
For better detail within the installer visit their documentation page here
Conclusion
So, Is it worth it? Yes! downloading and installing the KZX Engine is very simple. However, during the installation process, make sure to accept 'English' as a setup language and press OK. Also, don't forget to accept the license terms and agreements for more details on the license can be found here .
Once the installation process is complete, you'll see the KZX Engine shortcut on your desktop. That's it. Start using it and open the door of new excitement and new thrill and fun.
Being a new yet educational friendly 3D game engine, KZX Engine has gotten featured in several newspapers and online websites over the last month across the globe.