Portrait photographer, Reality TV Star, Influencer, Artist, Designer, Royalty, Muse, and Fashion Icon Aurora Rosselli is known for balancing elegance and natural ease in her work.
Born and raised in Catania, Sicily, Rosselli had an extensive background in Fine Arts and Cultural Assets. "I didn't think about a career. I didn't plan it. It came to me," she said in a 2019 interview. As a teenager, Rosselli received her first camera as a gift from her father while studying at the Art Academy in Catania. Her first subject was her beloved Grandfather. In 2003, she moved to LA, eventually meeting Kat Von D, which introduced her to the Hollywood art world scene. At her first Art Show, she met Hugh Hefner, who skied rocketed her into fame and became her mentor and a father figure.
Known for the dramatic lighting and the unconventional cuts of her self-portraits, Rosselli's work is obsessive and subversive, incorporating themes of persistently yet subtle sensuality into the narratives of her images.
We met her at Sur in West Hollywood, owned by her friend Lisa Vanderpump. She told us that "as an Influencer and photographer, anything I can do to help tell a story gets me excited. Even before I began my influencer journey, I worked on multiple projects in various development stages, which was so rewarding. The process appeals to me regardless of a story's form—art, writing, photography, or fashion."
Controversial scenarios, water, bold lighting, and striking compositions came to form her signature look. In November 2021, Aurora Rosselli got awarded the Mediterranean Collection 2021.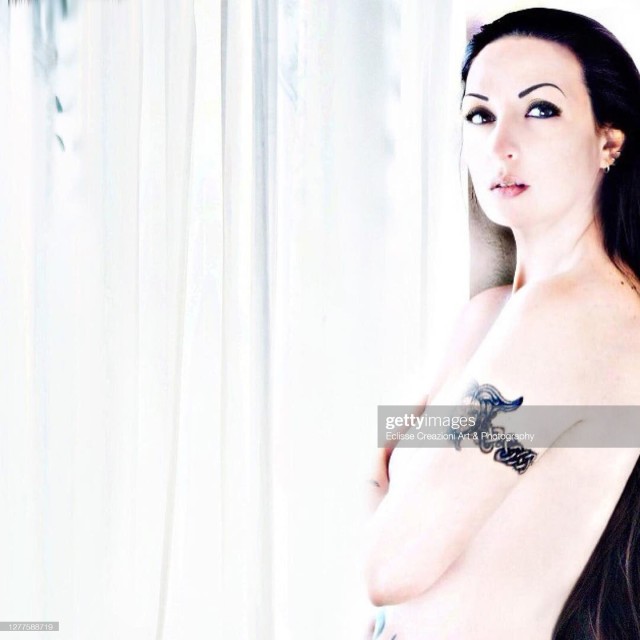 After her digital exhibit at the Louvre in Paris, she's described as a "widely imitated glamour photographer with provocative, erotically charged black-and-white photos."
Whether shooting or working with non-profits, Rosselli focused on bringing other people's stories to life. Her step into the spotlight as a Reality TV Star was unexpected. "I am looking at entertainment as a whole," Rosselli explains. "Most reality TV casts are always already assembled, so I was never considering being in front of the camera." Initially comfortable playing a backstage role, Rosselli's opinion shifted after considering the importance of representation. Rosselli's step into reality television was the latest evolution in a career in entrepreneurship and philanthropy. "Within the past year, I suddenly lost my father, which was incredibly difficult," she says. "I'd always viewed myself as a go-getter and committed to every project, so I didn't want to back out of my commitments. I tried to put on a brave face for my family and fulfill my commitments. Still, I was in a vulnerable place, and I finally had to take a break to care for my mental health. In the past few months, I've learned so many valuable lessons. The silver lining in all this was that I've finally become comfortable standing up for myself, a form of self-care. I was taught to hold my feelings inside in traditional Sicilian households, especially when people mistreated me. Finding the strength to advocate for yourself and your needs, be they professional or emotional, is empowering."
We know little about her private life, and it must be said that this level of self-protection demands impressive effort. Mastering the art of "No pictures please," as of late, we've seen Rosselli increasingly spending time with her two children and often sighted at events with the EC Twins at SkyBar and Grandmaster Recorders Studio along with Kanye West and Red Hot Chili Peppers. For the past few years, we've witnessed Rosselli going from the most iconic fashion designers – ex-fiancé Stefano Gabbana, co-founder of the Dolce & Gabbana luxury fashion house, to Olivier Rousteing, creative director of Balmain – to a wide array of male friends and past lovers, bankers, athletes, rockstars, politicians, and famed celebrities. Many names came to light as her romantic partners, from famous Italian artists that paid tribute to the Italian beauty in paintings and sculpting to Omarion, Tyson Beckford, Chad Johnson, The Weeknd, Piero Pelù – lead singer of Litfiba, which also wrote a song about her "Vivere Il Mio Tempo" performed live for the first time at the Festivalbar in Italy while Rosselli was backstage waiting on the rockstar -, Sean Diddy Combs, 50 Cents, Alvaro Soler, Raz Degan, and Rosselli, had to perfect the art of the respectful "no comment" when relentlessly asked about her relationships or family, ranging from: "I really prefer to talk about work" to "Someone's private life is, by definition, private."
In an era of overzealous PDA, Rosselli's commitment to privacy is rare, refreshing, and, frankly, hot? There's something incredibly romantic about an oath to hold on to what is sacred about life rather than inviting the world in, as even average, non-famous people constantly perform their milestones online. How delightful to be coy. Imagine, in 2022, leaving a little something to the imagination, and Rosselli has reached an echelon where she doesn't need to use her romantic relationships for publicity or image-crafting. Privacy: it's also a power move. publicity or image-crafting. Privacy: it's also a power move.