Jewelry is a carefully chosen element that completes an outfit and gives it the sparkle it needs; it can even become the element that makes you the center of attention at most important events. Thus, a whole market has grown around this need to satisfy the growing and increasingly diversified demand.
Launched in 2021 in New York City, Friendly Diamonds is an online retailer of certified laboratory grown diamonds whose goal is to revolutionize the jewelry industry by marrying state-of-the-art technology with brilliant designs at affordable prices without compromising quality and conscience.
The foundation on which Friendly Diamonds was born is based on three pillars. The first of these is "Diamonds are a Girl's Best Friend," a phrase that resonates with the entire jewelry industry, mainly attributable to the inimitable beauty of the diamond that has endeared women for centuries.
The second pillar is the offering of lab-created diamonds with the same sparkle, fire, and brilliance. Sustainable and renewable forms of energy are used in producing these diamonds, thus leaving a smaller carbon footprint, leading to environmental sustainability.
The third, but very important pillar, is the friendship bond between these diamonds and your budget, with prices reduced by 10-40%, depending on size, color, and clarity.
A large inventory of certified diamonds and over 200 ring and jewelry designs are a testament to the brand's success, further confirmed by the over 2,000 customer testimonials that have purchased rings from Friendly Diamonds in the past year.
From the wide variety of designs in this brand's inventory, a few stand out as being of-the-moment designs at the top of the bridal trend list for 2022. Eternity Rings, the symbol for the eternity of your relationship and frequently used as wedding bands, promise rings, or stackables, are available in three different shaped diamonds : round, oval, and cushion. Made with fancy-shaped lab diamonds all set in carefully carved shared prongs to highlight the sparkle and the beauty, these bands are the perfect gift to celebrate a milestone in your life which may represent your wedding, monumental celebration, or a "just because" gift.
Eternity Rings
Stud Earrings are another trending item that is a must-have in every women's jewelry ensemble. Friendly Diamonds offers a selection of five designs to choose from, each with a different shape or prong type.
Women who want to symbolize eternal love through earrings can do so with the heart-shaped design. Their heart-shaped lab diamonds are set in three prongs along with the sturdy post and push-backs, giving a secure and glamorous look.
Stud Earrings
For a classic look, you can choose the model with Round Lab Diamonds, one of the best-selling models in the collection.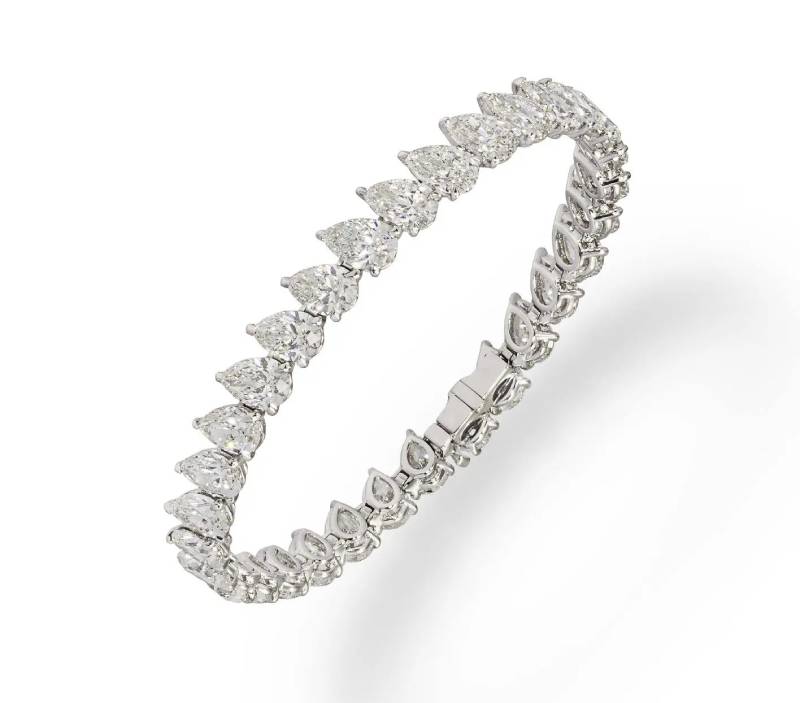 Available in seven designs, the Tennis Bracelet is the sparkling touch you must have on your wrist. This accessory has stood the test of time and is an elegant and subtle jewelry piece that adds the perfect flair of sophistication to any look. One of the bracelet designs is the Lilac Pear Lab Diamond Tennis Bracelet, a stylish bracelet crafted with a beautiful trail of pear-shaped gems set elegantly in three prong settings flowing in a slanting pattern.
Lilac Pear Lab Diamond Tennis Bracelet
You can choose the diamond carat weights and the metal for all these jewelry designs, whether platinum or gold, offered in three colors: white, yellow, and rose.
One of the things that set Friendly Diamonds apart is the service that Friendly Diamonds offers. The brand offers a free virtual meeting, which you can schedule according to your availability via their website https://friendlydiamonds.com/, with a certified gemologist and jewelry specialist to guide the customer with their diamond jewelry purchase and receive advice from the best in the business.