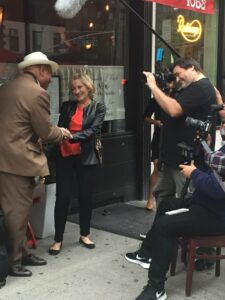 Eve Austin is an award-winning actress and producer, recognized for her remarkable performances and contributions to the film industry. With her impressive resume, including notable roles in Junction, Law & Order: Special Victims Unit (1999), Lola Does Manhattan (2020), and American Fango (2017), Eve has captivated audiences and earned critical acclaim. Her undeniable talent and dedication to her craft have garnered her over 30 Best Actress awards and accolades from more than 40 film festivals.
Having lived in several countries, Eve's diverse experiences and language skills, which include fluency in Spanish and German, have enabled her to portray a variety of characters with authenticity and nuance. Her proficiency in numerous dialects further highlights her versatility and adaptability as an actress.
Beyond her acting achievements, Eve Austin is an activist and philanthropist, committed to making a positive impact in the world. She is involved in multiple charitable causes, championing the underdog and advocating for those in need. Eve's dedication to social justice and humanitarian efforts reflects her compassionate nature and drive to create meaningful change.
As a proud member of New York Women in Film & Television (NYWIFT), The Gotham, and Pano, Eve actively supports and mentors others in the industry. These organizations are dedicated to fostering growth and providing resources for aspiring filmmakers and actors, and Eve's involvement showcases her commitment to nurturing and uplifting the creative community.
Eve's upcoming project, In Fidelity, features her as both a producer and an actress. The film stars Chris Parnell and Cara Buono in a poignant story exploring end-of-life decisions and the complexities of love and relationships. With her involvement in the production, Eve continues to demonstrate her multifaceted abilities in the world of film.
Eve Austin's work in FBI: Most Wanted and Law & Order: Special Victims Unit further showcases her range as an actress and her ability to captivate audiences in a variety of roles. Her dedication to her craft and her passion for storytelling make her a standout figure in the entertainment industry.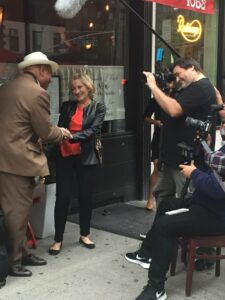 Eve Austin is a talented actress and activist who has made a significant impact on the film industry. With her passion for storytelling and dedication to making a difference in the world, she is an inspiration to many. Her upcoming project, "In Fidelity," is sure to be a success, and we can't wait to see what Eve will do next.
In summary, Eve Austin is a force to be reckoned with in the world of film and television. As an award-winning actress, producer, activist, and mentor, her impact extends far beyond the screen. With her continued commitment to her craft and her drive to create positive change, Eve Austin is a shining example of the potential for greatness in the entertainment industry.