Bamboo is a fantastic plant. Bamboo is not just only sustainable and eco-friendly material but also brings many values to the economy. Bamboo is slim, but the benefits are enormous. Thanks to planting bamboo, many life has changed, many families have grown up wealthy. Bamboo doesn't need high techniques or good care from people. We don't need to supply fertilizers or pesticides to bamboo; it still grows up naturally.
With the desire to build a green lifestyle for a green planet, QA Bamboo has built up a product ecosystem entirely from nature, say no pesticides and chemicals. We have a sustainable raw material area that has obtained permission from local authorities to exploit. Our factory spent nearly two years on researching raw materials, making the most effective bamboo straws process, and re-engineering machinery and equipment to make bamboo straws. Unlike other traditional bamboo straw facilities, we use modern machinery such as Carbonization Furnace, CNC cutting machine, Industrial Polishing Machine, Industrial Dehumidifier Machine, UV Light, etc. to ensure productivity as well as product quality. Although we industrialize the manufacturing process, we do not use any toxic chemicals in the whole process. Every step in the production process, from harvesting, designing to carving, is carried out by local men and women and ethnic groups in Son La, Vietnam. We provide economic opportunities and create decent jobs to improve their livelihoods and well-being for themselves, their families, and the community.
Bamboos for using straws must be more than one-year old, have green bark, no white chalk and moat base, the leaves are already dark green or yellowish, the bamboo diameter is from 5-15mm.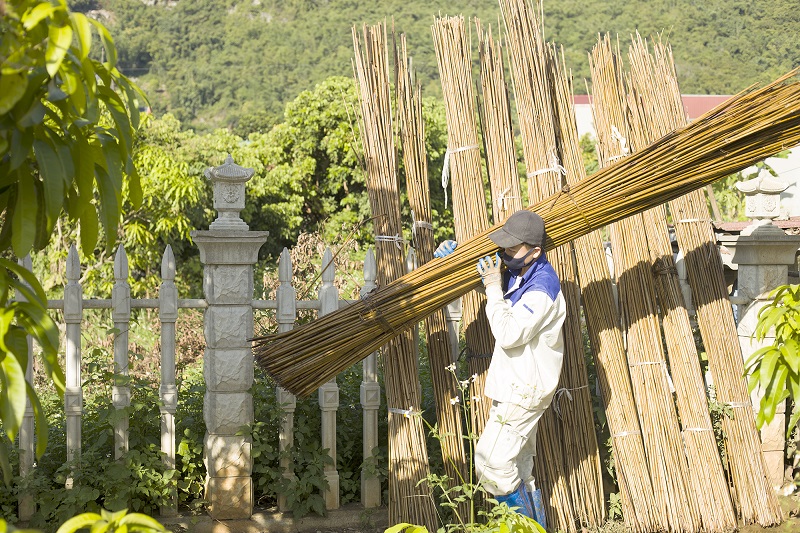 The farmers will enter the bamboo plantations and forests to seek out the bamboo trees at full maturity. It is essential that the trees picked are of good quality. Once identified and discovered, the bamboo trees will be chopped off and transported back to the factory.
Raw bamboos must achieve a standard, not too small and not insects.
Bamboo sticks are steam-cleaned, heat-dried by Carbonization Furnace at the correct temperature and time. The purposes of this process are to:
1. Bactericide, kill mold
2. Make the bamboo have a beautiful natural color
3. Remove sugar out of bamboo. It helps the straw avoid mold when using after a long time
Next, the bamboo sticks will be cooled down by freshwater. Then we let them dry naturally under the sunshine.
Raw bamboo will be cut into pieces by CNC Cutting Machine.
And we will polish those bamboos to make straws smoother by Industrial Polishing Machine and blowing the dust out of the straw by the High-pressure Steam Machine at the same time.
The straw will be sterilized by UV light.
After that, we will classify the straws by length and diameter.
Then, Bamboo straws will be checked for quality control, then put them into the storage room.
Finally, when customers order, we will customize the products according to specific requirements. The final products will be packaged and exported to the customers.
The reason that bamboo straws are currently not widely used by Vietnamese consumers, many businesses believe that the cost of bamboo straws is higher than plastic products, so they are still afraid to put them into use. But we have to educate the customers more about the value of eco-friendly bamboo straws, how bad the single-use plastic straw, and the impact of plastic on marine life. Besides, bamboo straws are reusable. You can use it as many times as you want until it is broken. This kind of straw is also biodegradable, so it is perfect for the environment. Our journey is still going on. In order to spread the message of environmental protection to more people around the world, QA bamboo needs the help of supermarket and restaurant businesses to deliver bamboo products to consumers. Because We don't have a Planet B.
Please check the website for more information:
Website: https://www.qabamboowholesale.com
IG: @qabamboowholesale
Facebook: https://www.facebook.com/qabamboowholesale