Popular Instagram influencer Ella Rose has been passionate about glamour and design since she was a teenager. "I have always been obsessed with fashion and styling," she shares. "My social media has allowed me to work with many brands that I used to save up every dollar to buy something from. I have incredible relationships with many brands I align with, and this has allowed me a lot of creative ability in the fashion space."
Ella is now adding to the list of brands she has had the opportunity to work with, collaborating with luxury jewelry brand Karen Lazar Designs. Ella has joined forces with the brand, handpicking pieces to create her personalized line of stack bracelets. After five years of loyalty to the brand and receiving millions of questions from her followers asking, "where did you get that jewelry," the Ella Rose and Karen Lazar collaboration began.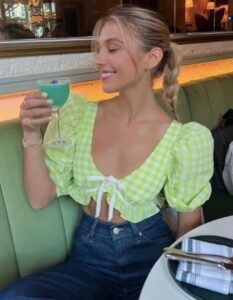 The Ella Rose x Karen Lazar Designs Signature Stack collection includes five bracelets of varying sizes and one ring. It is currently available for purchase on the Karen Lazar Designs website.
Karen Lazar Designs is known for its luxe, minimalistic designs that can be paired with any look. Their delicate and refined gold beading gives their pieces a classic feel while still allowing them to make a statement through their simplistic beauty. Karen Lazar Designs have become a quintessential part of anyone's wardrobe, completing every outfit; no wonder Ella has been a longtime fan..
Ella has been sharing her life on social media since high school. Even her earliest posts tended to focus on fashion. She became a full-time influencer after facing the hardships of the pandemic and losing her corporate job at Gucci in 2019. This allowed her to dabble in some of her other interests, well, a bit more than dabbling. She started a food blog, Art of Foods, where she documents the various restaurants she tries, giving people a taste of what dining in New York is like. She also started a beauty line, Skin by Ella Rose, inspired by her love of minimal makeup; she is expanding her product line to be relaunched in 2023.
Ella's priority is always to connect with her audience. "A lot of my followers have been around for 6+ years, so even though my following isn't super large, they are very dedicated," she says. She takes her role as an influencer seriously and wants to give her followers the best content she can. When asked what she is most proud of in her career, Ella says, " I have continued to be myself while evolving and sharing my journey with my audience, and I think I have created a wonderful community of mainly females who come to me for inspiration and a role model."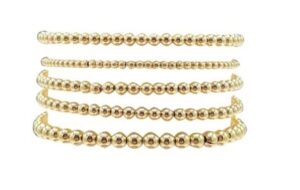 As someone who cares so much about her audience, Ella hopes her partnership with Karen Lazar Designs will be another way to connect with her network. These remarkable pair share an appetite for elegant clothing and jewelry, designing beautiful pieces with their fans in mind. Anyone who admires Ella's sleek, trendy style is sure to like the group of bracelets and rings. Followers can now wear timeless pieces handpicked by Ella herself, connecting with her fans and going above and beyond.