YULIA NIKULINA BEAUTY & MEDICAL premium medical clinic celebrates its third anniversary. Even in the harsh conditions of war, blackouts, and complex economic circumstances, the wellness and health space continues to operate, develop, and even offer customers the widest range of the most innovative solutions in the beauty market, as well as the quality of service inspired by European studios and salons. In the interview the founder of the clinic Yulia Nikulina talks about operating business during the wartime, achievements of this year, key changes in the preferences and demands of customers, surviving and living without electricity, and her plans for the future.
Sadly enough, the clinic has to celebrate its 3rd anniversary in the conditions of war. Can you tell us about your impressions of the path you have already covered? What changed during the war? What was the way of adjusting to the new reality for your business?
Yulia Nikulina, "I have to agree and confess that just a year ago, when we celebrated the second anniversary of the clinic, made plans for the future, and thought about new ways to conquer the beauty industry, we could never imagine the drastic changes that took place in 2022. I have a wide range of impressions, and not all of them are good.
On the one hand, when the war began, some of the employees went abroad to save their children and families. During the first stage, there was some confusion about how to keep the business, and whether it was worth taking our expensive equipment out of Ukraine. We also needed to understand what to do with our employees who remained in the country.
Many of our regular visitors have also left. However, some of them decided to sta. As soon as the first customers started to call us asking for appointments for procedures, and when my colleagues began asking to open the clinic because they were ready to work, I realized that we would cope with this situation and go through this difficult period. Firstly, we did not have many customers. Our city was half empty, but eventually, we returned to the pre-war daily indicators.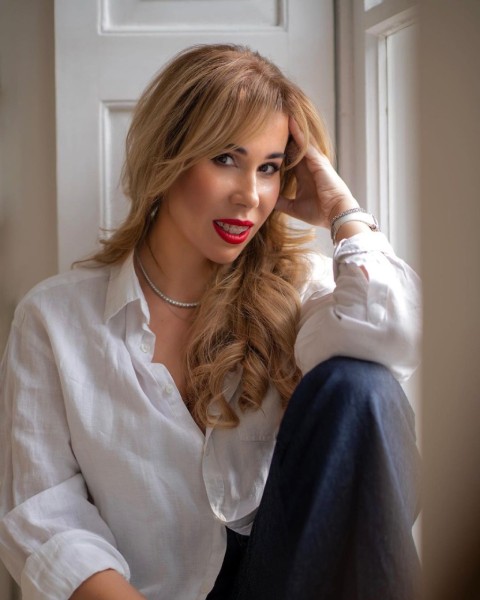 Our clinic is only 3 years old, but my team and I have 14 years of experience in the beauty market. During these years, we have grown from a small beauty salon into a premium space with the best equipment, modern technologies, and astonishing cosmeceuticals from the world's leading manufacturers.
I want to thank our customers, who supported us at the beginning of the war. They were the first to support us and our faith in the future when we were experiencing the first shock and did not fully understand what to do.
On the other hand, we have noticed the highest demand for complex procedures during the war. We never had anything similar during peacetime. The nature of the demands of our customers has changed in connection with the war. Previously, our guests had more flexibility to choose the time and duration of procedures. Now, many customers are trying to get the highest number of treatments within the shortest time.
I have to notice that the quality of our services, the range of offers and products is much wider than in Europe. When our customers return to Ukraine to solve personal affairs, they try to book the widest range of health and beauty treatments and services at the same time. Sometimes, they even order two beauty experts simultaneously to save their precious time.
I have to highlight the fact that I do not remember such a demand for a full range of procedures as of now. It was not the case before the war. This is especially true for those Ukrainians who return from abroad. They order more services than in peacetime. It happens due to the limited time of staying in Ukraine. They need to achieve the result that was usually stretched over a longer period within a short period of time.
We celebrate our third anniversary with friends, partners, and our beloved customers who have already become part of our friendly family. First of all, I want to thank them for their trust, for coming back, recommending us, and bringing their friends and family members to us."
What are the most important features of your clinic? What is the most attractive thing for guests?
Yulia Nikulina, "First of all, the image of the clinic is represented by the level of services and the opportunities that we offer in the field of care, wellness, and beauty. We do our best to purchase and offer all the most advanced devices in the cosmetology market that have already proven their effectiveness, safety, and innovation to the world. We use a comprehensive approach to choosing our devices while taking into account customer requests.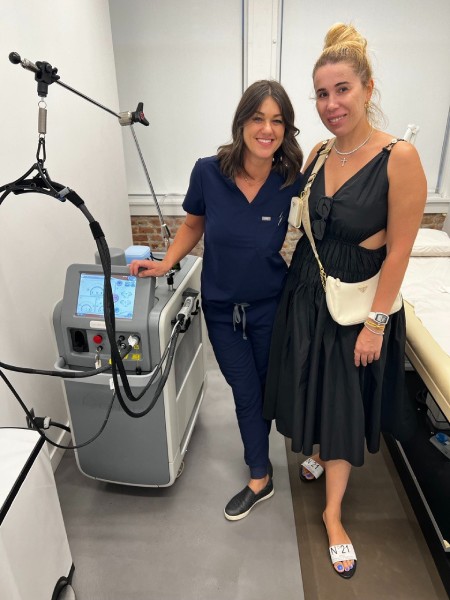 We buy only original and licensed equipment. In addition, all our equipment is operated by the most experienced and professional cosmetologists. We offer only premium cosmeceutical brands. And this is our approach create the highest level of comfort and coziness for guests.
I have to notice that our clinic also has a lot of exclusively licensed devices that cannot be found in any other locations. Many international brands contact us to offer exclusive cooperation agreements.
Here is an interesting example: At the moment, we are negotiating with a French distributor of instrumental cosmetology equipment to offer their technologies in our space. These devices work in a top clinic in Monaco, and now their representatives want to cooperate with us on the grounds of an exclusive agreement.
Such cooperation shows the level of our services, the professionalism of our doctors, and the level of trust of international companies that are used to working only with the best studios from all around the world.
Another interesting thing is the fact that in our space, you will not be offered to buy something that does not suit you or is not needed. All doctors of the clinic are experienced and seasoned professionals with extensive experience in cosmetology."
How do you maintain the quality of services? How do you motivate your employees?
Yulia Nikulina, "Every year, we send our doctors for advanced and specialized training abroad. I have to notice that we need to offer services of the highest quality. Why? Because we work with the skin of our customers, their appearance, and it is important to adhere to all rules and protocols. So, it is a must-have.
On the other hand, professionalism needs to be nurtured not only with knowledge but with motivation. The highest quality of services should be encouraged in the team. And this is what we do on a permanent basis. I have to confess that I am a strict, yet fair leader. I try to be a wise mentor to my colleagues, as well as to become their friend and support when necessary."
How do you manage to overcome the crisis in the energy sector? As we all know, Odesa, along with other regions of Ukraine, suffers from a shortage of electricity and communication outages due to missile attacks of the enemy.
Yulia Nikulina, "We have two venues located at Koroleva Street 16, in the Alice Place hotel building: Our clinic on the third floor, and our wellness studio on the sixth. Even before the massive power outages due to the war, we installed a power generator to solve the issue of outages. As soon as the constant problems with electricity began, we had to move part of the equipment of the wellness studio to the third floor in order to provide the full range of services.
Our customers were incredibly grateful for such a decision. Why? It is easy! While being in Odessa for several days without electricity and communication, they had the opportunity to receive not only comprehensive care and beauty services, but also recharge their gadgets, drink hot coffee, stay warm and comfortable, and get in touch with their beloved ones. In such a difficult time and cold season, it is so important to share warmth with other people.
When we faced serious problems with electricity and communications in Odessa, we managed to think in the right way, and purchased a StarLink device. Within a few days, all communications were restored, and today our clinic is not affected by power outages.
For our customers, who come to get their procedures, it is an amazing opportunity to stay in touch, to work, and to solve some important things online. Our Instagram influencers manage their blogs right from our salon and post new stories. It is incredibly nice to receive feedback with gratitude about such a space, where everything is created with love, care, and for the comfort of guests.
It has already become a good tradition for our regular customers to come in advance before the treatments to enjoy our cozy atmosphere, please themselves with delicious coffee, and try new cosmetics. Our guests confess that the aura of the salon is not comparable to other clinics in the city.
Even though many of them try to copy our style, services, devices, and technologies, they cannot recreate our internal atmosphere and level of professionalism. It can only be created from scratch. For me, it is important to create something that I consider to be the best for myself and my loved ones.
Another important element in the conditions of war is security. Our premises are equipped with a spacious shelter with water and necessary products. You can safely wait there during various alarms and attacks. After the incident, when a missile was dropped not far from us, our guests began to go down to the shelter during the air raid warnings. Such a bomb shelter is another advantage in terms of safety and comfort for customers."
Doing business in a war is obviously more difficult. What unpleasant things have you encountered this year?
Yulia Nikulina, "During the war, we got a clear understanding of such a thing as unfair competition. It is always easier to work when the market is civilized, all the rules are clear, and the players follow the rules. However, it is not always the case.
I would like to appeal to our so-called "competitors" who believe that it is possible to "drown" someone else's business in a war by sending inspections and doing other dirty tricks. There is such a thing as the boomerang effect, and everything will return to normal sooner or later. We will survive both the inspections and this war. I am talking about those, who have no idea about working honestly and for results, who prefer to denigrate other people and strong players. They will sooner or later find themselves on the sidelines since they waste their resources instead of their own development."
Many companies are actively helping the army and the state to win this war. Are there any charitable initiatives in your business?
Yulia Nikulina, "Yes. We do our best to help the Armed Forces of Ukraine and those who especially need help in this difficult time. Since all three of my sons were born in the First Odessa Maternity Hospital, the clinic actively supports this medical institution. It was especially important to support the maternity hospital in the first months of the war when the curfew would last for several days, and women in labor or medical staff could not freely go out into the streets to buy food, hygiene items, and medicines.
We handed over long-lasting products and hygiene products and provided financial assistance for the purchase of equipment for the proper operation of the maternity hospital in conditions of anxiety or power outages.
Talking about supporting the Armed Forces, we transferred 100% of our earnings to the needs of the army during the first months of our operation. Who else would support our soldiers? It can be any working business that pays taxes and keeps the economic front stable.
That is what we did. I have to notice that many other companies supported us. For example, Zolotoye Runo Restaurant is located in the same building as us. They offered free hot lunches for retired people, low-income families, and displaced persons during the first months of the war. In addition, the restaurant provided food to the soldiers defending the city."
It is hard to talk about plans for the future during the war. And still, what business plans do you want to share?
Yulia Nikulina, "We want to continue working and developing in Ukraine. We want to end this war to bring our projects to life as soon as possible. We plan to open the second clinic in Odessa under the YULIA NIKULINA BEAUTY & MEDICAL brand. It will be our new clinic with beautiful views of the opera house. In the nearest future, we also plan to expand our two salons in Warsaw and open two more spaces in world capitals. While continuing to conquer the beauty market in Europe, we are able to bring our victory closer."