In 2013, explorer, photographer, and ex-SAS soldier Daniel Hughes became the first person to complete a video broadcast from the summit of Mt Everest. He describes it as his 'most accomplished adventure', adding that he was "Very proud to have raised lots of money for Comic Relief by taking the first red nose to the summit".
And although Daniel remains best-known for this incredible feat, this was far from his only adventurous achievement. Prior to climbing Mt Everest in an effort to raise £1m for impoverished children in South America, he served in the British Special Forces. "I owe everything to the military," he says. "At the university I flew with the air force and then spent 7 years serving as a reservist in the Army".
Alongside his military career and the Mt Everest climb, Daniel Hughes is also an accomplished cyclist. He raced for a US Pro Race team and represented Great Britain two ITU Duathlon Championships, in 2014 and 2015, arriving in the highly creditable eighth place both times.
Currently, he is using his experience and abilities to, as he puts it, "find and capture the most extraordinary places on Earth". As part of this endeavour, in 2020 he published a collection of the world's most scenic cycling climbs, titled Epic Cols.
"For years, like many, I've watched the Tour de France and seen the epic climbs which the riders have done battle with. But it was when I got to ride the Valle Nevado climb in Chile that I realised I had to start the Epic Cols collection," he says. "I thought 'How can such a brutal and beautiful climb not be ranked amongst the world's greats?' In a game of climbing Top Trumps it beats every climb in Europe."
The collection, available online, features dozens of climbs around the world, all of which Daniel has completed and captured in incredible stills and videos. The climbs are sorted by continent, with each page featuring factual information, directions, maps, and Daniel's comments alongside the stunning visual material.
As a certified commercial drone photographer, Daniel holds OFQUAL 4 Accreditation and OFQUAL 5 Award for Chief Pilots – enabling him to produce unique material during his cycling adventures.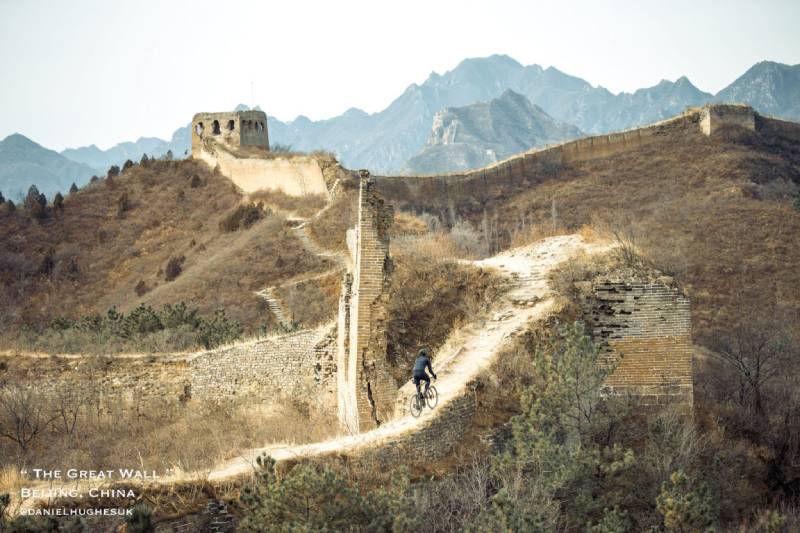 "One of my favourite shots is of me riding over the Great Wall of China which few people have ever done," Daniel says. "This was a multi-year mission, we travelled 3-hours North of Beijing, planned a route by looking at the DJI database so we could see where we could pop up a drone and after 2-hours of scrambling over the mountains with bikes we got to the location. It was -12 which is actually one of the reasons that the shot came out so clear. It was breath-taking looking at the wall winding its way over the top of the mountains for as far as the eye could see." To see Daniel's cycling climbs collection and marvel at the incredible sights he shares with the world, visit the Epic Cols website or Daniel's Instagram. You can find out more about Daniel Hughes on his site and by following him on Twitter.