Kanchipuram sarees are handwoven silk sarees that are made in Kanchipuram, a city in the Southern state of Tamilnadu, known as the "Banaras of South India" without which no bridal trousseau is complete. No South Indian bride will be seen in anything except a heavily brocaded silk saree from Kanchipuram.
History of Kanchipuram sarees
Originating in Kanchipuram, Tamil Nadu, the celebrated Kanchipuram sarees weaving can be traced to 400 years ago. The art of the Kanchipuram weave became famous during King Krishna Devaraya's reign. The Devangas and Saligars, two prominent weaving communities from Andhra Pradesh, settled in the little place of kancheepuram. These weavers were inspired by the sculptures and images of deities found among the famous town of the (then) village. Kanchipuram silk sarees became famous for their poetic imagery on yards of silk.
Beginnings of kanchi wedding sarees
Though Kancheepuram wedding silk sarees are the symbol of Southern India, the raw materials like silver and gold zari are from the state of Gujarat. The mulberry silk used in weaving are of the highest quality, originating in South India. A Kanchipuram saree is woven using three shuttles – the secret of the detailed designs of the typical Kanjivaram wedding saree.
Kanchipuram Saree Weaving Stages
Kanchipuram sarees trademark stiffness and thickness are achieved by immersing the silk threads with rice water and drying them in the hot sun. After the different coloured threads are dried, each one is twined with a slender silver zari and are hand woven through the wrap, another golden thread completes one line of a weave. The process is meticulous and achieves a mesmerizing rainbow of colours on a wrap frame, which has 60 holes to weave a typical six yard or nine yard saree. The wrap (length) has 240 threads and the weft can be anywhere between 260 to 3100 threads. To achieve a greater level of intricacy, the body of the kanchipuram saree, the borders and the pallu are woven separately and then joined together so meticulously and subtly that almost everyone thinks the entire bridal saree is woven together in a single process.
Superior Characteristics of kanchi bridal sarees
The design and the color schemes of the pallu, border and the body of the silk saree are different from each other, which is why they're woven separately and then attached. If you look closely, you can see the zigzag outline (pitni) between the pallu and the body. The korvai or joining of the border, pallu and body of the saree is so robust and durable and 3 three parts will not be separated from each other even when saree gets damaged.
The Kanchipuram silk sarees fabric is also durable and strong because 3 different silk threads intertwined with silver wire makes up the zari. This makes the average Kanchipuram sarees online  quite heavy, as much as 900 grams and above. 
Hues of kanchi bridal sarees
The bright colours and arresting designs that Kanjeevaram 'pattu' sarees are famous for are derived from the scripture scenes and figurines of spiritual hindu temples at kanchipuram. Unlike silk sarees from other parts of India, Kanchipuram sarees are known for their contrasting shades and striking colours. This is because pallu & main saree body are woven separately.
Kanchipuram Silk Saree Symbols
Right from the beginning, Kanchipuram silk sarees depicted temple figures , scriptural or mythological scenes. This tradition continues today in keeping with the fact that Kanchipuram is also a very famous South Indian temple town.
Sari borders depict common design elements like hindu holy places, kings buildings , and the traditional paintings. The saree body usually features pyramidal temple gopuram (tower) motifs, squares, stripes designs and flower motifs such as stylized lotus blossoms.
As time passed, these old-fashioned geometric designs such as stripe designs and gold zari dots (butta) were dropped. Modern saree designs feature fruits and flower designs, animal designs, bird designs, along with mythological motifs.
Types of Kanchipuram sarees
Traditional Kanchipuram sarees were nine yards long but being adaptive, the weaver communities included the modern six- yard weave as well. Sadly, with the cost of gold and silver skyrocketing, they are nowadays replaced by copper zari. However, these mimic the ancient gold and silver thread effect quite realistically. Gold and silver zari Kanchipuram sarees are available and quite expensive. But one must check and confirm the authenticity of the zari before buying a Kanchipuram silk saree.
What is Happening Now?
To add to the prestige of Kanchipuram silk sarees, Google awarded the coveted Geographical Indicator tag to Kanchipuram Silk Sarees in 2005. That ought to convince you of the prestigious nature of these pretty, colourful and festive yards of hand-woven material!
Around 6,000 families make their living from this artform, with around 20 silk yard industries & 70 colour factories around Kanchipuram district also involved the production method.
In 2008, kollywood movie, Kanchivaram, based on the saree weaving communities and their troubles, brought the industry's problems to people's attention. The government has also advertised and promoted the usage of handloom products to help the weavers.
The government held handloom society has joined hands with thirteen e-commerce entities to market handloom creations directly from the makers. This means that when you shop a Kanchipuram silk sarees online, it probably comes straight from the weavers enabling them to get a good price.
Pricing of Kanchipuram wedding sarees
The cost of an authentic silk saree can range from Rs. 9,000 to Rs. 3,00,000. Cheaper variations such as the artificial silk sarees and the half pure silk sarees give the appearance of being original but are flimsy. These cheaper imitations cost between Rs. 1,000 to Rs. 4,000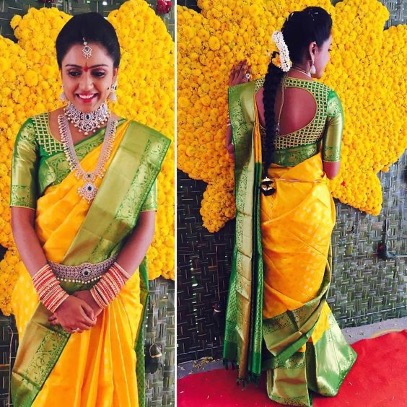 Identifying a Kanchipuram Silk Saree
A distinguishing sign is, the wedding sarees border and body will not match. But cheaper versions follow similar designs, made from fake zari are available. Examine the finish zari work and its colour to recognize a forgery.
A good way to identify or compare the authentic and duplicate Kancheepuram saree is to burn a few little knots at the end of the saree pallu and see if the ashes smell like burnt hair or burnt leather . Sarees using artificial threads will produce no ash when burnt.
An easier way to find out is to rub the zari with 2 fingers and see the inside part of the gold zari. Red silk thread is used in pure zari, which is coated with gold. If inside part in zari is white or another colour, it is an imitation Kanchipuram silk saree.
Silk Mark Tag awarded to pure quality Kanchipuram silk saris is another official way to distinguish an original from a fake.
Maintenance of silk sarees
Petrol wash is the first choice for your Kanchipuram sarees. Incase you wash your kanchi wedding saree at your house, don't use soap for upto the first 3 washing times. Rinse the saree in normal water alone, dry it off in the shade. Store individually in saree bags.