Model, singer, and artist Ellen Alexander is a woman in control. The Russian-born triple threat has graced the cover of several high fashion magazines, including Marie Clarie, Harper's Bazaar, Glamour, Cosmopolitan, and worked on Versace and Guess campaigns.
Not only is she stunning and graceful in front of the camera as a model and actress, but she's also branching out into a new passion project – singing and writing music.
"I've written about 200 songs," she says. Her latest single "Shadows," a romantic tune, is available on Spotify, and she plans on releasing a second track called "Mannequin" soon. Although she spends most of her free time in the studio working on her craft, she's learning how to balance it all.
"I'm very busy," she laughs. "I don't have time for anything or anybody; I just barely have time to see my friends."
Born in Moscow, and based in Los Angeles for more than a decade, Ellen's often jet setting around the world. On any given day, you can catch her in London, New York, Paris, and back in Russia for work. She's got a busy schedule. Even during quarantine, she's managed to fill her calendar with modeling and acting jobs. During this time, she's learned the importance of self-care and how to focus on yourself.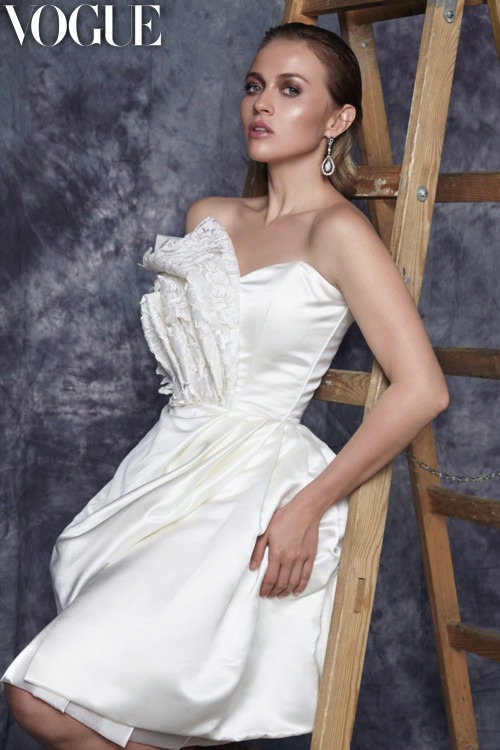 "I can be alone. I don't need to date anybody," she says. "I've learned that I shouldn't be concerned about my private life, personal life, and I should focus on my career."
Although you might think modeling for top fashion houses, acting in Hollywood, and creating music is a lot to manage, Ellen is no stranger to having many responsibilities on her plate. When she was four years old, she started learning English in Russia, and as a kid, she went to school for eight hours a day in an intensive program that focused on physics, math, and science.
"It was very tough for a small kid," she says. It was those experiences that taught her the importance of investing in yourself to open new doors and create opportunities.
Her advice to her younger self, "not to be afraid, and not to feel insecure, and not to try to save every penny," she says. "When I was a kid, I was afraid to travel to meet an agent, if I had to pay out of my own pocket, or cover expenses for a hotel because that was minor spending."
She learned to network and build relationships to create opportunities for success.
For the rest of 2020, Ellen plans to focus on modeling, acting, and writing new music. She'll be releasing new tracks and music videos for each song in Russia and the US.
"I'm trying to accomplish everything I possibly can and focus on progress and new achievements," she shared with her impressive amount of followers on Instagram.  
Ellen's new music video to her song "Shadows" has recently premiered and is available for everyone to enjoy on Youtube:
To stay up to date with all things Ellen, and her new music follow her on
Instagram @ellen.alexander. and @ellenalexandermodeling
Contact Ellen for business inquiries:
Email: ellenalexandermodeling@gmail.com
Website: ellenalexander-la.com