Galina Antonova is a talented Russian woman who established herself as an actress and model over the past few years. A quick look at her IMDB page will reveal an impressive portfolio of stunning and well-received performances, while her modeling career is equally as rich and diverse.
Galina has been the face of various brands, who relied on her charisma and devastatingly good looks in order to bring a fresh outlook on their products. Galina herself is extremely passionate about the world of fashion, and she has been recently working as a content creator and editor. Most recently, she took the leap and went on to create her very own podcast, which is now available on digital streaming platforms and stores, such as iTunes, Soundcloud, Spotify, and many others. The podcast is actually named brainsandbeautypodcast – A title that fully reflects her attitude as well as her willingness to provide content that's fun and entertaining for all fashion and beauty enthusiasts – yet also incredibly intelligent and thought-provoking.
As a model and actress, as well as a life-long fashionista, Galina has many fantastic adventures in the world of haute couture, and she is keen on sharing them all with her audience. For instance, she recently had the fantastic opportunity to visit New York, London, Milan, and Paris in order to attend the most prestigious Fashion Week events throughout the entire world…back to back! She is deeply embedded and involved in the world of fashion, so her podcast and content are all about offering a closer look at this world, even to people who never actually had the chance to experience it from such a privileged and up-close perspective.
Galina is a charismatic individual who knows what it takes to create a lasting connection with her audience, and she knows how to leave her mark, whether she is acting, performing as a model, or hosting her engaging podcast shoes! She is the true embodiment of brain and beauty, and she is undoubtedly growing into a role model for many of those who follow her career and life updates.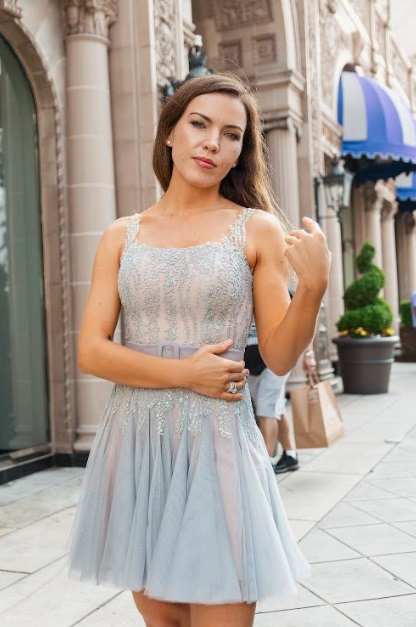 Learn more about Galina Antonova and do check out her podcast, as well as her other initiatives, activities, social platforms, and updates.
https://www.galinaantonova.com/
https://podcasts.apple.com/us/podcast/brains-and-beauty-podcast/id1489898437