Expanding operations, diversifying the business, or stepping into new regions requires a significant amount of time, money, energy, and workforce. Companies seek out options that save costs.
Outsourcing is one of the best cost-saving alternatives. According to fortunly.com, last year, the global outsourcing market reached a whopping $92.5 billion.
Outsourcing HR Services
HR functions play an integral part in the success of any organization. Just like other business functions, Human resource management entails some areas that are now deemed complex to practice inhouse and are outsourced.
Outsourcing HR services becomes critical when businesses plan to expand into new markets.
For example, companies expanding operations in the Middle East, outsourcing HR services to consultants locally present, could benefit them. Not only with cost-saving but ensures an efficient flow of workforce management.
Best Advantages of Outsourcing HR services
There are numerous perks of appointing outside HR consultancy services.
Every business gets a similar share of benefits, but small scale businesses or companies who run regional offices in different locations, are the main beneficiaries.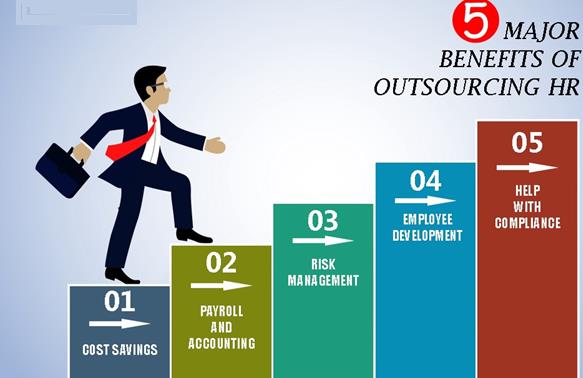 Cost Saving Option
Running an HR department in-house requires substantial expenses in the appointment of well-trained staff, managing office space, and overheads.
The first and foremost benefit of outsourcing, some or complete HR functions, is expense optimization. It saves a fair share of expenses for the company.
Moreover, due to variability, the cost of outsourcing can be adjusted according to the requirement of the business.
In countries like Saudi Arabia, Kuwait, Oman, Bahrain, and UAE, ease of doing business has attracted many foreign companies. Most of them have opted to outsource their HR functions.
Mitigating Risk
Business practices and methodologies change over time; hence new laws and updates keep flowing in, making the job difficult for companies to manage at some point in time. It exposes the company to the risks involved.
HR Consultancy firms employ seasoned experts who are well versed in the laws and latest developments. Businesses can hire their services to minimize the risks.
Ensuring HR Compliance
Companies must make sure their HR practices are in line with current laws. Contracting out compliance audits and assessments to well-trained experts can lower the risk of getting involved in legal disputes.
It becomes quite critical when companies are operating outside their home domain. It is highly recommended to appoint HR law consultants locally who know the terrain and protect the businesses from legal disputes.
Employee Development
It also helps organizations recruit new talent, enhance the existing workforce capabilities, and measure performance.
HR service providers decrease the workload of managers. They often conduct performance evaluations, report the results to the management for their further review and action.
Today, companies can benefit from many HR solutions that enable the automated system to manage organizational development efficiently.
Outsourcing of HR services is becoming an essential task. Now, companies have the liberty to procure the best solution provider in a specific HR function.
Access to better consultancy firms and experts has become easier. Global talent is available to offer their expertise and advice to manage your business's human resources successfully.